Deepavali Festival Box Order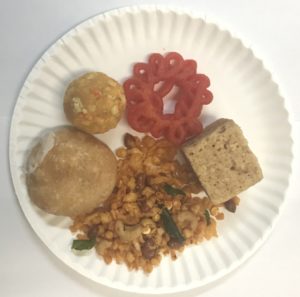 Each order of Deepavali Festival Box contains 6 individual boxes of Deepavali Sweets and Snacks.
Each individual box contains 5 items:
(1) One Laddu
(2) One Mysorepak
(3) One Jangiri
(4) One Badusha
(5) One pack of mixture
Price for one order of Deepavali Festival Box – $36 plus shipping charges.
All items are freshly prepared.
Orders received before 2 p.m. during weekdays will be shipped the same day by UPS.
Delivery time: 2 to 4 days depending on the location.
This is a package order and therefore, quantity or items cannot be changed.
How to order?
Please fill out the form below to submit your Deepavali Festival Box order. We'll call you over phone to inform you the shipping charges and accept your credit / debit card info.
Please note that orders submitted after November 1, 2018, may arrive after Deepavali day of November 4, 2018.
You may also order Deepavali Sweets and Snacks separately from this page.