Deepavali Festival Box Order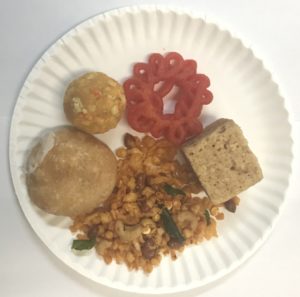 Each order of Deepavali Festival Box contains 6 individual boxes of Deepavali Sweets and Snacks. For more details and to order Deepavali Festival Box online, please click here.
Deepavali Sweets and Snacks
Delicious Deepavali snacks and sweets are available at the Temple Canteen and also for shipping.
For more information and pricing please contact the Temple Canteen during business hours.
PLEASE NOTE :
Shipping charges are not included.
Please provide a telephone number with inquiries and orders.
Snacks
Regular Mixture (Not Spicy) – Each Large Packet – (Approx 1 LB) – $7.00
Spicy Mixture – Each Large Packet – (Approx 1 LB) – $7.00
Kara Boondi – Each Large Packet – (Approx 1 LB) – $7.00
Omapodi – Each Large Packet – (Approx 1 LB) – $6.00
Karasev – Each Large Packet – (Approx 1 LB) – $6.00
Ribbon Pakoda – Each Large Packet – (Approx 1 LB) – $6.00
Mullu Murukku – Each Large Packet – (Approx 1 LB) – $6.00
Butter Mullu Murukku – Each Large Packet (Approx 1 LB) – $6.00
Thenkuzhal – Each Piece – $1.25
Sweets
Soft Mysorepak – 1 Piece – $1.00
Regular Mysorepak – 1 Piece – $1.00
Regular Laddu – 1 Piece – $1.00
Special Laddu – 1 Piece – $3.00
Badusha – 1 Piece – $1.00
Jangiri – 1 Piece – $1.25
Badam Burfi – 1 Piece – $1.25
Rava Laddu – 1 Piece – $1.00
Coconut Burfi – 1 Piece – $1.50
Wheat Halva – 1 Piece – $3.00